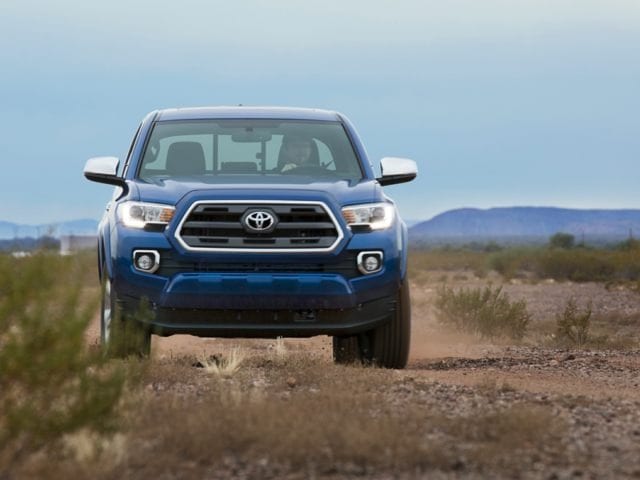 When it comes to trucks, Toyota has it figured out. Not only is their full line of trucks great looking, but they are hardworking as well. Whether you are using your truck on the jobsite, or just to get to and from work, you can't go wrong with a Toyota. The 2018 Tacoma builds off of an already stellar reputation for quality and performance by giving you plenty of reasons to love your new vehicle. Technology, safety, comfort, great looks, and so much more can be yours while giving you the versatility that only a truck can bring to the table. Find yours on the lot of Haley Toyota of Richmond, and never settle for less again. Haley Auto, your home for everything Toyota near Richmond.
Getting Down and Dirty Never Looked So Good
A great truck not only handles itself well on the pavement, but is perfectly at home in the dirt and mud as well. With that in mind, the 2018 Toyota Tacoma is more than eager to get mud on its tires. While all the models will give you what you need, only the TRD Pro will give you those little extras that make any destination possible. TRD-tuned Fox internal bypass shocks, TRD Pro Front Skid Plate, TRD Pro Catback Exhaust, and LED fog lights mean that not only will your Tacoma handle the harshest conditions, but it will look great doing it. See this model and the entire lineup on the lot of Haley Toyota of Richmond today.
Finally, An Affordable Truck
When you mention the word truck, usually things get remarkably expensive. Thankfully, even though it is filled with features, the 2018 Tacoma is able to remain significantly affordable. With an MSRP starting price of around $24,575, and an EPA estimated fuel economy of 19 mpg city and 24 mpg highway, the Tacoma will save you money up front and for the long haul. Take the time to get to know your friendly neighborhood Haley Auto Group Dealership and the 2018 Tacoma in person. Haley, Toyota, and You: simply meant to be.