Get Your Express Offer Now
TOP OFFER GUARANTEED
We are in need of inventory! To meet our goals we will pay top dollar, beating any competitor's offer on your vehicle. Bring in any offer or send it to our acquisition managers and we will beat it!
THE EXPRESS PROCESS
The process is quick and easy. Click Express Offer above, fill out your information, and hear from a Haley corporate inventory manager Within 24 hours. Our offer will beat the rest!
It Only Takes 15 Seconds
We want to make this as simple as possible. It only takes 15 seconds to receive a Haley Express Offer online. When visiting our location, we will have you in and out within 15 minutes. It is 
that quick!
Haley Express Buying Team
Haley Express is operated by experienced acquisition managers who have one goal...acquiring inventory. Though Haley Auto Group has 11 convenient locations to buy cars, the Haley Express team will not be selling you anything. Their mission is to quickly give you a top offer on your vehicle, and ensure you leave satisfied.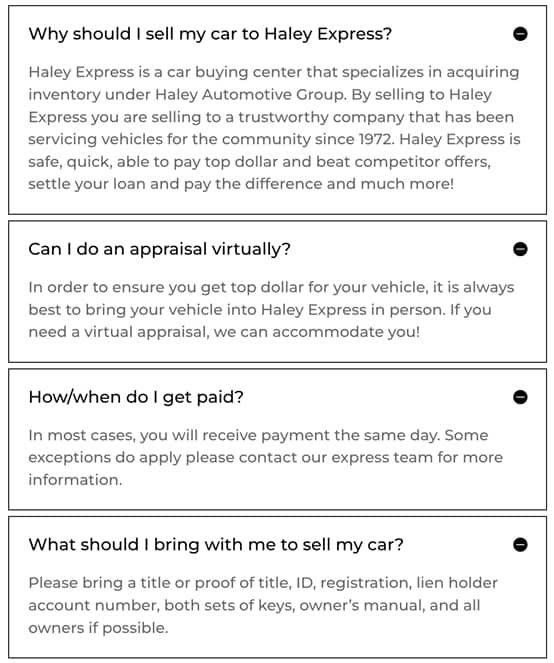 By submitting your information you are allowing Haley Express team members to contact you via text/email/phone call with the option to opt out anytime. As we would love to purchase every vehicle, Haley Express does have the right to refuse purchase of any vehicle. Must present a bona-fide written appraisal from any third party. Authentication of vehicle appraisal required. Vehicle description and condition must be identical to appraised vehicle. Appraisal must show VIN#. Misprints and technical errors void offer. Haley Express must have the final opportunity to purchase your vehicle